The industrial park
Industrial Park Banská Bystrica provides a unique opportunity to become a great partner of growing and profitable companies which are operating in various kinds of industry, such as mechanical engineering, electronics, construction, pharmaceutical and much more, directly in the center of Slovakia, in Banská Bystrica.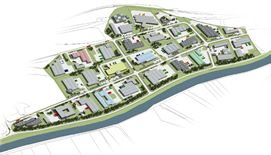 Industrial Park Banská Bystrica with the actual acreage of 36 hectares offers investors areas for sale or rent. There is yet possibility of expanding of the acreage up to 70 ha. All the areas are suitable for any kind of industry and services. Industrial Park Banská Bystrica is situated in the capital of Banská Bystrica Region, in city of Banská Bystrica. From the perspective of investors, Banská Bystrica Region is significant for its affordable and skilled labour force not only with required education, but also experienced in many kinds of industries.
In the territory of the Slovak Republic, there is always plenty of commercial and industrial potential due to its economic factors and skilled workers. It provides preferable conditions to either start a business here or further develop already existing trades. You can be right in the center, in the Industrial Park Banská Bystrica, which is waiting just for you!